Bergy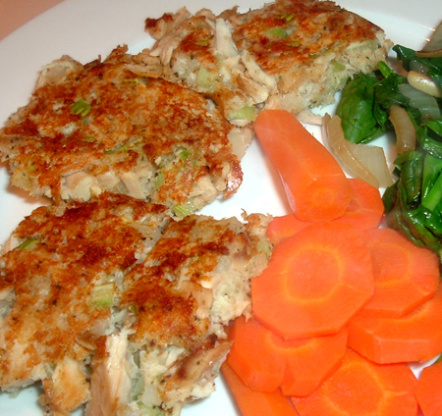 Very simple and tasty tuna patties with a slight difference, mashed potatoes.

Pretty darn good and a good way to use up that little bit of leftover mashed potato. I added a bit of garlic to my potatoes, and added chopped scallion and some no-salt seasonings to the mix, just to up the flavor factor. Mr Grumpy ate without complaining much, he did not really like the texture all that much, but he ate all of his dinner. Served with green salad and buttered noodles.
In bowl combine potatoes, tuna, bread crumbs, celery, and pepper.
Add tuna water, if and as needed, to moisten mixture.
In skillet heat oil over medium heat.
Drop about 1/3 cup potato mixture into hot oil; flatten to 1/2-inch patty.
Cook 4 minutes or until browned.
Carefully turn; cook 4 minutes more.
Repeat with remaining mixture.
Serve with tartar sauce if desired.