Tuna Patties Burgers Cakes.....something like that
Kelley52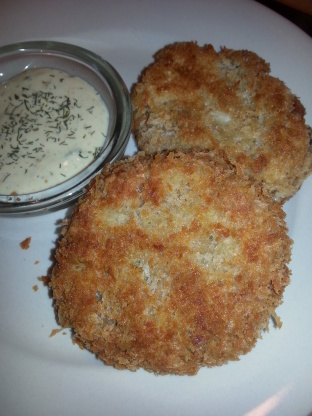 kinda like crab cakes. quick and easy

These were so delicious. The flavor of the stuffing mix really makes them special. They fried to a deliciate crisp. My husband put his on toasted buns with mayo. The kids and I dipped ours in honey-mustard sauce and chili sauce. Vewy, vewy good. Thanks pb.
2

(6 ounce) cans tuna (drained, but not squeezed dry)

1

package seasoned stuffing mix

2

eggs
1⁄3 cup mayonnaise
1⁄2 teaspoon dill weed (optional)
oil, to fry in
combine stuffing and seasoning packs (if separate) in a large bowl.
using a fork, thoroughly mix/mash together all ingredients (except oil).
shape into patties (I use my ice cream scoop and flatten the scoops into patties) fry in a pan of hot oil until golden on each side (about 5 minutes).
serve with cocktail, tarter, or dill sauce.
or put on a bun and have it your way!