Tuna Pasta Salad With Yogurt Dill Sauce
PaulaG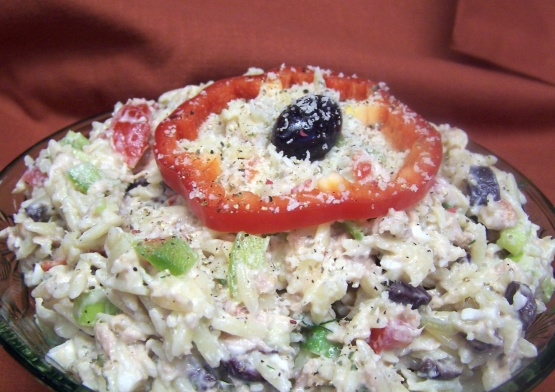 This cool and refreshing salad is perfect for lunch or a light dinner. Serve this over fresh greens of your choice along with crisp bread as a main dish or serve as a side dish. Either way the blending of flavors is a true taste delight.

Top Review by Zurie
Generally fresh-sounding (I have not made it). I plan to make it because it contains the ingredients we like in a substantial salad -- as a light meal. 21 June 07: I FORGOT TO REVIEW THIS!! We had a spell of unnaturally hot weather some days ago (it's winter here!!) and I had to prepare a light lunch for 2 friends, so we were 4 people. This salad, with French bread from a local bakery and cold white wine, fitted the bill. I confess to using 3 hardboiled eggs and more of all the ingredients because I only made this one dish. I used a tangy mayonnaise instead of the yoghurt. This was after reading the previous reviews. But apart from the mayo I didn't sub anything. The salad was made early and had a few hours in the fridge although you state "serve immediately". I think the flavours developed well, though, and the salad didn't seem to suffer -- we loved the fresh tastes. Thanks!
Cook the pasta according to package directions, drain, rinse under cold water to quick chill, drain well and pour into large mixing bowl.
Stir in green onions, bell peppers, tomatoes, olives, egg, fresh herbs, mustard, and parsley; mixing well.
Add the lemon juice, yogurt, tuna and cheese, mix well; add salt and pepper to taste. Garnish with a sliced bell pepper slice, sliced tomato or additional cheese if desired.
Serve immediately, if preparing to serve later, reserve 1/2 cup of the yogurt to add just before serving as the pasta will absorb the moisture when refrigerated.