Tuna Pasta Salad With Warm Black Olive Vinaigrette
Annacia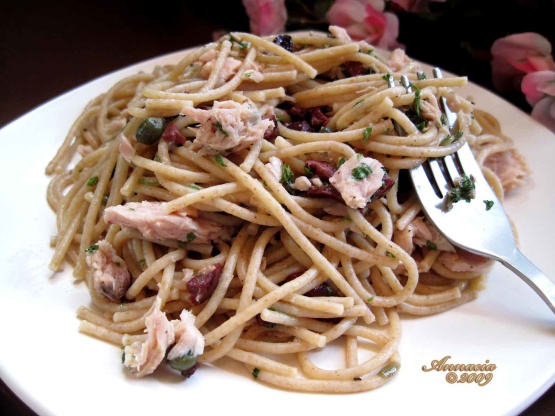 Whenever a salad calls for tuna, I prefer to use a can of Italian olive oil-packed tuna. It has a more robust flavor and makes the tuna a little less ordinary.

Truly delicious. I didn't have whole wheat penne but I did have e whole multi-grain spaghetini so used that. The flavors just come alive and make you feel like your on the Italian Rivera. Very good grade extra virgin oil and fresh lemon juice are imperative here and the salty mildly pungent capers and Kalamatas is wonderful. I would recommend that you cook use coarse fresh ground pepper and cook it in the oil along with the other items. Strong simple flavors can make a wonderful when paired as these were.
Cook the pasta according to the package directions.
Meanwhile, heat 3 T. of the oil in a large skillet over medium-low heat. Add the garlic and cook until softened, about 2 minutes. Add the capers and olives and cook for 3 minutes. Stir in the parsley and cook until wilted, about 1 minute. Remove from heat.
Add the lemon juice, pepper, and the remaining oil.
Drain the pasta, rinse under cold water, and top with the tuna and olive vinaigrette.
Serve immediately .