Barb G.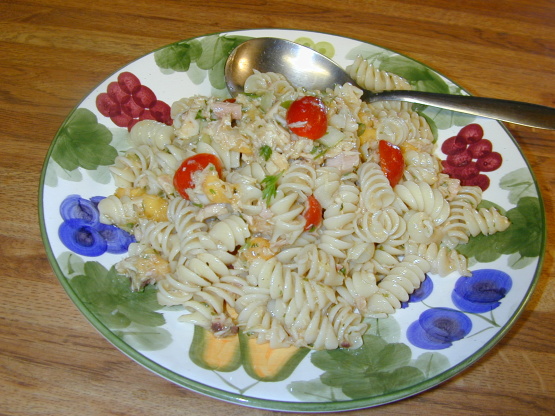 I know there are a ton of tuna pasta salads here, but I didn't see any quite like this unique recipe. Who would have thought to add a mango to a pasta salad? I'm storing this here to try very soon.

Very good! Originally, I was going to rate it as a 4, but since I modified the recipe, I decided that would not be completely fair. Here are my modifications:
1. I used gluten-free red lentil pasta (delicious!)
2. I used regular french mustard for lack of dijon.
3. I skipped the mango (much to my regret) because I did not have it.
All in all, it was very good, and perhaps would've added a clove or two more garlic - can't say how that would taste if I did have mango in it, though.

Thanks!
Boil pasta according to instructions on package; drain and rinse with cold water.
Place cooled pasta in a large bowl and add tuna, scallions, bell pepper, mango, parsley and basil.
For the dressing, whisk oil, vinegar, garlic, mustard, salt and pepper together in a small bowl.
Add dressing to salad and toss well to coat.
Garnish with some extra basil and serve chilled on 4 plates.