PaulaG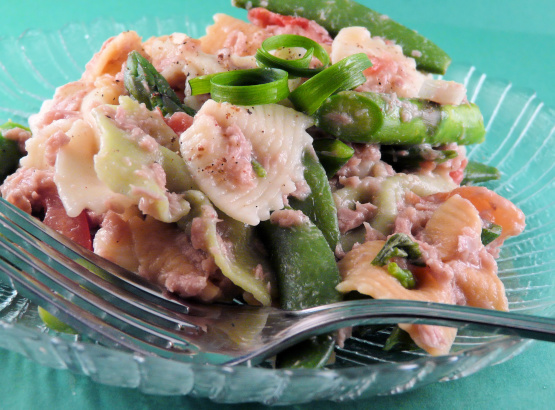 From Weight Watchers "5 Ingredient 15 Minute" cookbook.

I made some substitutions but feel pretty confident in giving this a good rating. No white flour for me so substituted whole wheat penne. Also didn't have peas so sliced one cup of carrots and steamed them separate (microwave) in case they don't cook the same rate. Didn't have tuna and it isn't a favorite for me so I used home-canned chicken and used the broth in place of the pasta water. I really like how the flavors came together. Some would find this bland but it is perfect for me. I'm on a no-vinegar (among other things) diet and this didn't have any no-nos
Cook pasta according to package directions; drain but reserve 3 tablespoons of the cooking water.
While pasta cooks, combine asparagus and peas in a steamer basket over boiling water; cover and steam 3-4 minutes or until asparagus is crisp-tender. Drain.
Combine steamed vegetables, onions, salt, and oil in a large bowl.
Add pasta, pasta cooking water, tomato, and lemon juice; toss well.
Add tuna; toss.
Sprinkle with pepper and serve.