Tuna (Or Chicken) Macaroni Supper Salad
Prep 20 mins
Cook 10 mins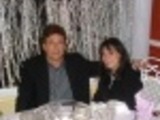 This is great in the summertime, when the last thing you want for dinner is something hot. (Preparation time given does not include chilling time.)
Directions
Cook elbow macaroni as package directs. Drain; rinse with cold water.
In large bowl, combine mayonnaise, Italian dressing, and mustard; mix well.
Add cucumber, tomato, green pepper, green onion, salt, pepper, tuna (in large pieces) and macaroni; toss to mix well.
Refrigerate, covered, until well chilled - about 4 hours.
Serve over a bed of mixed green garnished with chopped egg and parsley.
Most Helpful
I hade a little more than 2 cups of shredded chicken breast in the freezer, so I used that after chopping it up! AND, after following the recipe right on down, we had A VERY NICE SUPPER for 3, with a bit left over for lunch the next day! I quartered home-grown cherry tomatoes (gift from a friend) & honey Dijon mustard (my usual standard) ~ Thanks for a very satisfying meal! [Tagged, made & reviewed in Please Review My Recipe tag]
This lovely salad has me yearning for summer to come soon! I halved the recipe for just myself (with lots of leftovers). Used tuna and the only change was shallot instead of green onion (well, and yellow not green pepper). Also just noticed I forgot the hard-cooked egg but it wasn't missed. Thanks for sharing!

Liked this so well that I actually have made twice! Perfect for hot day relaxing on lake. Don't want to miss it. I appreciate recipes that use ingredients I have on hand. Made as posted except omitted the cucumber --dh digs them out so subbed in peas. Thank you Jackie for sharing.