Tuna Noodle Casserole Delight
MnMs Mom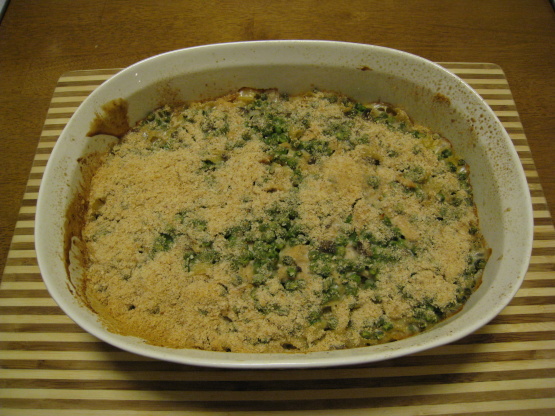 Suggestion: Subsitiution for bread crumbs. You can also use Cereal(corn-flakes), Crackers,and sometimes you can use Corn chips to.
4

cups water

2

cups No Yolks egg noodle substitute, uncooked

1

teaspoon salt
1⁄2 cup skim milk
10 3⁄4 ounces low-fat cream of mushroom soup

6

ounces tuna in water, drained and flaked

2

cups frozen green peas, thawed
1⁄4 cup white breadcrumb
Preheat oven to 350.
Prepare a 2-quart casserole dish with cooking spray; set aside. Heat water to boiling.
Add noodles and salt. Boil for 9 minutes and drain.
Add milk to soup and mix well.
Arrange half of noodles, half of tuna, half of peas, and half of soup mixture in layers in prepared dish.
Repeat layers.
Sprinkle bread crumbs on top.
Bake for 30 minutes.