Annacia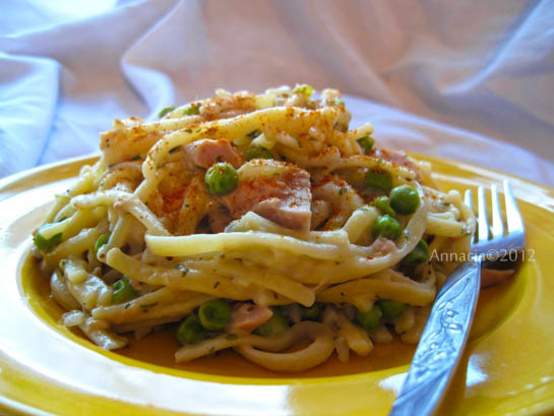 Based on a recipe from Pam Spaude's & Jan Owan-McMenamin, R.D.'s cookbook, One Year of Healthy, Hearty & Simple One-Dish Meals. They recommend serving this with a tossed salad and a fruit to complete the meal nutritionally. I use Campbell's Healthy Request Cream of Celery Soup, although the nutrition facts presented here are from the book and based on a "regular" can of soup. Per serving: 352 calories, 13.7 mg cholesterol, 387 mg sodium, .7 gm saturated fat, 2.8 gm fat. Update after finally trying this recipe for the All You Can Cook Buffet special event: This is like emergency tuna casserole since all the ingredients are pantry/freezer items for me. It came together quickly on a Friday night after a long work week and the thought of cooking wasn't appealing! This hit the spot. Would probably not put it on the menu for guests, but would certainly reach for this recipe in a pinch for something very quick and yet satisfying. And yes, a side salad is great with this dish.

This is so quick and easy! Done on the stove top and all in one pan, gotta love that. After starting I discovered that I was far short of the 3 cups of noodles so I just broke up some linguini to make 2 cups and that worked out ok. It might have been the pasta I used but it sure sucked up the liquid quickly. I believe that next time I'll add in a can of mushrooms with the liquid included. Thanks Mersaydees, this is a good one for a night when you don't have the time for a lot of prep or just don't want to fuss. :D
Combine soup, milk, water, dillweed, celery seed and onions in large skillet. Bring to a boil.
Add noodles and bring to a second boil. Reduce heat and simmer until noodles are tender.
Add in peas and tuna. Cover and cook an additional 15 minutes.