Tuna Mornay With Orange and Leek
Chickee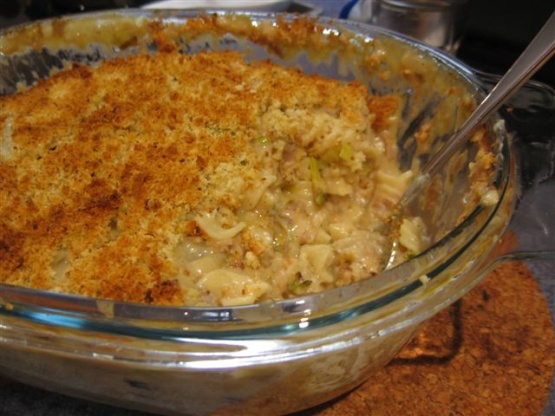 From Good Taste magazine, this has become my favourite tuna mornay recipe. It is slightly fiddly but worth it! Great when the orange tree is covered in fruit. Australian measurements (1 cup = 250g, 1T=20ml). Reduced fat ingredients can be used.

This was a good way to use a tin of tuna (as opposed to a regular "tuna pasta bake"). The parsley and orange rind gave the mornay a lovely taste, I think next time though I might reduce the orange juice down slightly, just personal preference. Thank you for posting, made for Aus/Kiwi Recipe Swap June 2009.
Preheat oven to 180 degrees Celsius.
Place the bread, orange rind, half the parsley and half the parmesan in a food processor and process until finely chopped.
Cook the pasta and drain.
Meanwhile, cook the white sauce by heating the oil in a saucepan. Add the flour and cook, stirring for about a minute. Gradually add the milk, whisking until combined. Cook over medium heat, stirring constantly, until the sauce boils and thickens. Remove from the heat. Stir in yoghurt and cheddar.
Place cornflour in a jug with stock, wine and orange juice. Stir to combine.
Heat the olive oil in a large frying pan over medium heat. Add the leek and cook, stirring occasionally, for 4 minutes. Add the cornflour mixture. Cook, stirring, for 3 minutes until the sauce thickens.
Add the pasta, white sauce, tuna and remaining parsley. Season with salt and pepper.
Transfer to a 1.5L ovenproof dish. Top with the breadcrumb mixture and remaining parmesan cheese.
Bake for 30 minutes or until golden.