ImPat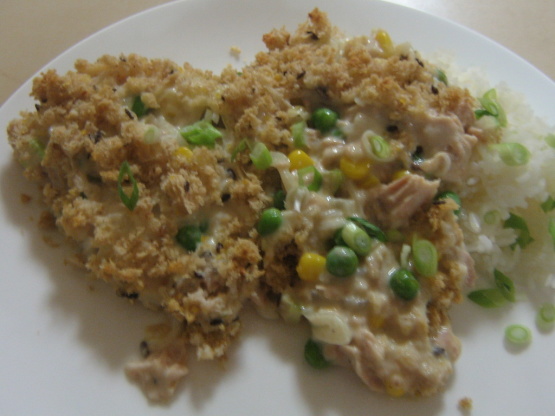 I felt like some real comfort food, and I had not done any shopping, With only Tuna and a few other things in the cupboard, I came up with a this recipe.

The perfect Tuna Mornay. This recipe was really easy to follow and had a good amount of flavor. I also added a sprinkle of cayenne pepper and mushrooms that I needed to use up. I remember my Mum used to add chopped boiled egg to hers which was a yummy addition. I made my own bread crumbs as recommended which seemed to make all the difference. I have saved this to my favorites to make again and again. Thank you for sharing Tisme.
Melt butter in a medium pan and fry the onion until tender.
Remove pan from heat and stir in the flour, then return to low heat for a few minutes.
Remove pan from heat once again and gradually stir in the milk, return the pan to the heat and stir until it becomes a white sauce and thickens.
Add the cheese's and stir until its melted.
Place tuna in a casserole dish and mix in corn, peas, celery, parsley, lemon juice and curry powder. Stir ingredients until combined and then season to taste.
Mix breadcrumbs with melted butter (I make fresh breadcrums in the processor and add the butter to make it easier). and top the mornay with breadcrumbs.
Place into 200c oven and heat for 10-15 minutes or until heated through and breadcrumbs are lightly browned.
Serve.