CindiJ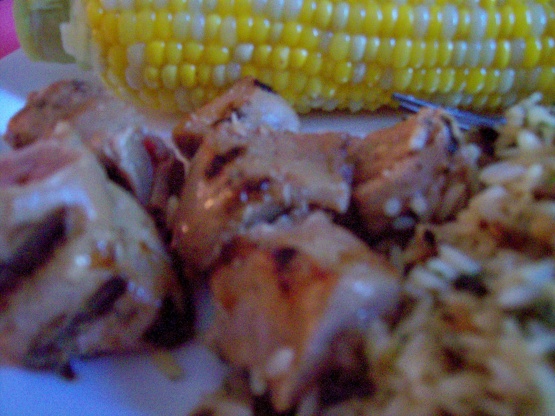 Delicious, quick and easy! Can also be broiled. Goes well with Asian-Flavored Coleslaw #33941.
2

tablespoons soy sauce

1

tablespoon rice vinegar

1

teaspoon toasted sesame oil

1

teaspoon wasabi powder, mixed with

1

teaspoon water
1 1⁄4 lbs tuna steaks, 1 1/2 inches thick,cut into 1 1/2 inch chunks

4

bamboo skewers, soaked in water for 10 minutes (10 or 12 inch)
Preheat grill to medium high.
Combine soy, vinegar, sesame oil and wasabi in a ziplock bag.
Add tuna and marinate at room temperature for 10 minutes.
Thread tuna on skewers and cook on an oiled grill 5-10 minutes or until browned outside and cooked to desired degree of doneness inside.