gailanng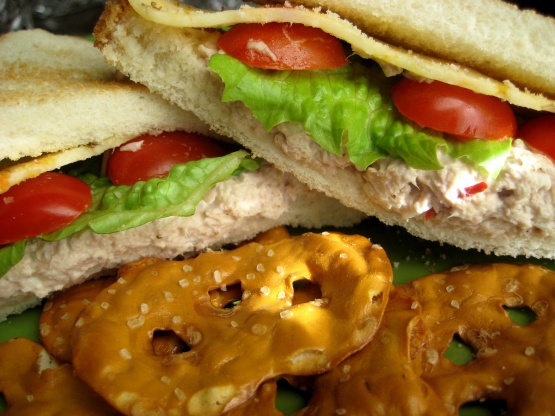 When I was a child my Mom just used tuna packed in spring water mixed with a spoonful of Miracle Whip salad dressing, but when I became an adult my tastes changed. *Note: Cooking time: is toasting time.

Delicious! Made this for DD and my lunch and I followed the directions (except for the tomato on DD sandwich...she doesn't like fresh tomatoes) and some slivered onions added. Definately one I will make again. Made for Spring PAC 2012.
Drain water from cans of tuna.
Mix tuna, 2-tablespoons of Miracle Whip and onions together and divide in quarters.
Pair up the 8 slices of toast.
Spread 1-teaspoon on each slice of toast.
Build each sandwich with 1-slice of cheese, tuna mixture, 1/4 of the shredded lettuce, 1-2 slices of tomato and other slice of toast.
Place two toothpicks to hold each sandwich together approximately 1" from two opposite corners.
Cut sandwiches diagonally and serve with potato chips.