Tuna Fish Sandwich All Grown Up
teresas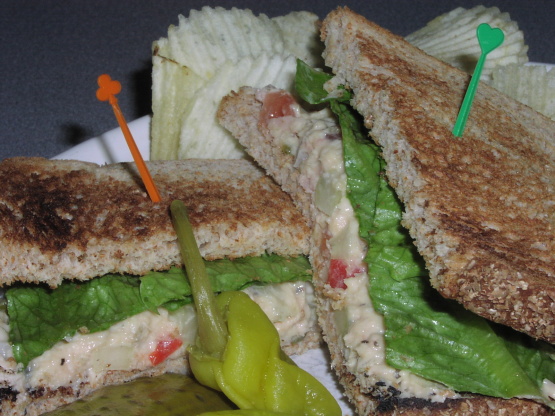 All ingredients can be adjusted to taste. B's mom cans her own tuna and it makes this sandwich a dream of a sandwich for tuna lovers. The best commercial tuna I've found for this is the Costco brand, believe it or not. This recipe has been refined, changed and adjusted by everyone in our family for as long as I can remember.
Mmmmmm what a great lunch! For my relish, I had a dill pickle one and I put it on rye with spinach instead of lettuce. Next time I'm going to make it into a tuna melt! Made for PAC Spring '11
Put tuna in a bowl and break up. Add mayonnaise and mustard and mix well.
Mix in pickle relish, Worcestershire sauce, salt and pepper.
Fold in tomatoes, celery and shallots. Adjust seasonings to taste.
Pile onto slice of bread, top with lettuce and serve or lay down bed of lettuce and serve salad style.