Brenda.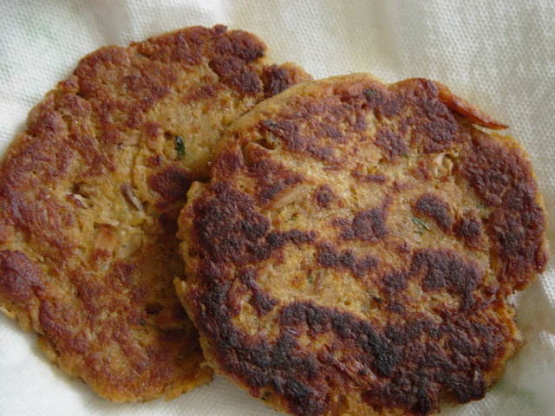 I was gearing up from the Zaar World Tour. When looking at some Jewish cooking websites I stumbled onto an old favorite and then realized it wasn't posted here. So, here goes, feel free to adjust seasonings for your personal taste.

awesomely simple recipe. i used ketchup and sriracha instead of the tomato juice, and added a lil onion powder and old bay. amazed at how well the wheat germ holds the patties together. didn't have dill. quick and easy. i made a sriracha mayo. i made four, but i could make mini patties and sit these out as an economical appetizer for guests. keeper.
In a large bowl, combine all the ingredients; nix well.
Shape the mixture into 4 equal size patties.
Heat 1 to 2 tablespoons oil in heavy frying pan add the formed patties and fry on both sides until golden brown.
Drain on paper towels to absorb excess oil.