PaulaG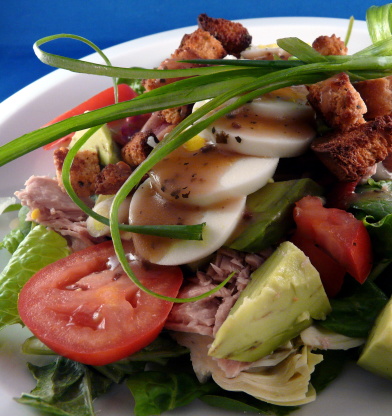 A great variation to the original Cobb salad! From Home Basics magazine. You may also use chicken if you wish. Enjoy!

The great thing about this recipe is that you can add or delete ingredients easily, according to your taste - no tomatoes for me! The tuna, combined with the ranch dressing made for a creamy texture - I used peppercorn-parmesan ranch and all the other ingredients except I had no avocados - I'm sure that would have made it even more yummy! I love tuna, so this is a nice "new" way to have a delicious tuna salad lunch.
On two dinner plates, layer all ingredients except dressing.
Top with dressing.
If desired, sprinkle over croutons, and season with salt and ground black pepper.
Enjoy!