Tuna Chilli Risotto (Low Fat)
Ninna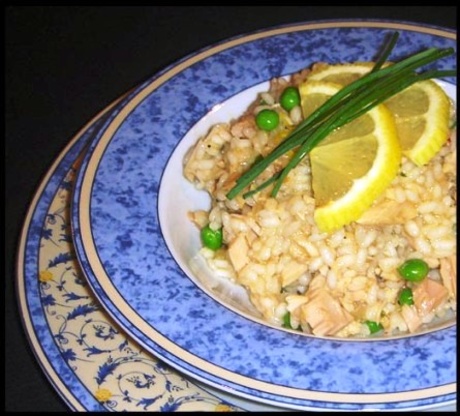 I use stock to sauté the onions because my DH cannot have fat in his diet - it works very well, maybe it is just a little quicker to soften if oil is used. UPDATE - As my DH is no longer on a fat free diet, I now use extra virgin olive oil instead of the stock to saute the onion/leek and rice.

Top Review by Baz231
Delicious! Had very little in the pantry except for a tin of tuna and felt like risotto. Found this recipe, had all the ingredients and went for it. I didn't use the extra stock to do the onions - I prefer to cook them in a tablespoon of olive oil for a bit, then add the rice and chili, as per the recipe. I then added a half cup of white wine, reduced it and went from there as normal. Thanks for posting - we really enjoyed it, (and have continued to enjoy it with the leftovers.)
1 1⁄4 cups arborio rice

4

cups chicken stock

370

g canned tuna, slices in spring water

1

onion, chopped finely (or 1 leek)
1⁄4 cup stock, extra (I now use 2 tbs extra virgin olive oil)

1 -2

teaspoon chili, minced

1

tablespoon lemon juice
3⁄4 cup frozen peas
parmesan cheese, so serve on the side (optional)
Sauté onion or leek in pan with the extra stock (or olive oil) add chilli and rice and cook 1-2 minutes.
Using a medium size saucepan bring stock to the boil, then reduce heat and allow to simmer.
Add 1 cup of the simmering stock to the rice, onion mixture and stir until stock has been absorbed; continue adding stock, a cup at a time and stirring frequently.
Add peas, tuna and lemon juice & zest and stir into risotto, cook another minute or two to heat through.
Serve parmesan on the side.