GaylaJ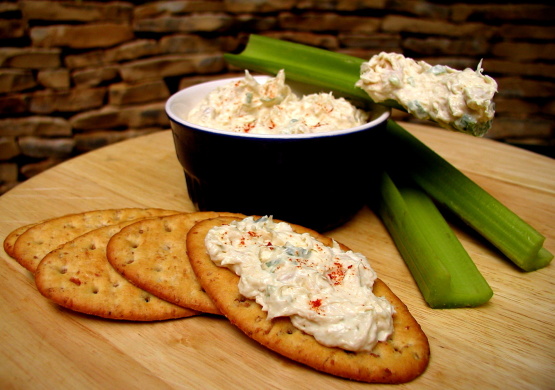 This is really delicious, especially if you are low-carbing it. It's a great alternative to "plain" tuna salad. Can be used as a dip for celery sticks, spread on celery stalks, or stuffed in cherry tomatoes. Prep time does not include chill time, since you can leave it in the fridge for longer than the one hour mentioned in the recipe.

mirj, u've got a real KEEPER here. i just whipped this up in 10 minutes using low fat cream cheese, tuna flakes in water, curry powder (definitely more than 3/4 tsp!!), lemon juice, chopped spring onions and grated cheddar - all rolled up in a fajita-sized flour tortilla. yummy! thanks!
Soften the cream cheese for about 1 hour.
(I usually just give it a whirl in the microwave for about 20 seconds) Drain the tuna, mash with a fork.
Combine the cream cheese, tuna and mayo.
Add the lemon juice, curry and salt.
Mix to blend well.
Add the onions and stir to blend.
Chill for 1 hour for the flavors to blend.