Nif_H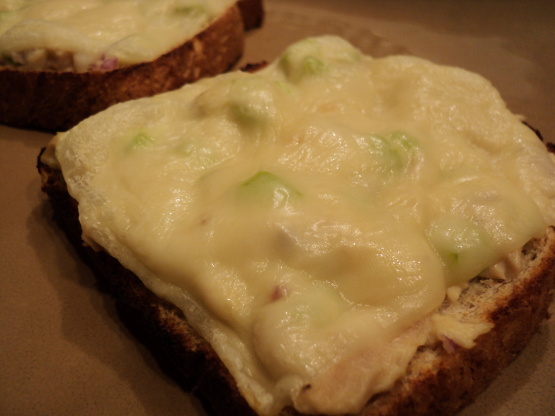 What can be easier than a tuna melt? I think the lemon pepper adds a little bite to these. Sometimes I change them up and make them on English muffins. From Pillsbury Salads, Sandwiches, and Soups.

Yum! Simple, but one of the best tuna melts I've eaten. Only changes I made were to use Hellman's mayo and to use the tuna mixture for three open faced sandwiches rather than four. Thanks for sharing the recipe!
In small bowl, combine tuna, celery, onion, salad dressing and lemon pepper; mix well.
Spread about 1/4 cup tuna mixture on each slice of toast.
Place on broiler pan or ungreased cookie sheet.
Broil 4-6-inches from heat 2 to 3 minutes or until tuna mixture is hot.
Top each with cheese slice.
Broil an additional 1 to 2 minutes or until cheese is melted.