Chickee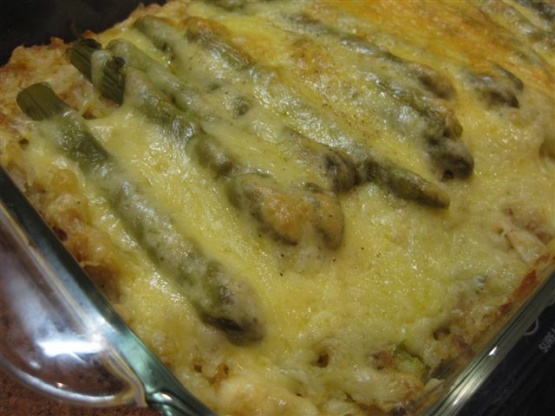 This is really good! From my friend, Amy.

Really liked this recipe! My rice absorbed a lot of the liquid, and I let it stand before cutting, so it was more of a slice than a casserole. I used cheddar cheese out of preference, and we don't easily get pimentos in Australia so I left them out. Add some tabasco. Will make this again as a different way of serving what my mum always called "tuna and rice".
Preheat oven to 350 degrees.
Combine tuna, rice, pepper, onion, pimientos, soup and mayo.
Season with salt and pepper.
Spoon into a greased shallow 2 quart casserole dish.
Lay asparagus spears across the entire top of the casserole.
Sprinkle with cheese.
Bake until hot and bubbly, about 30 minutes.