MsSally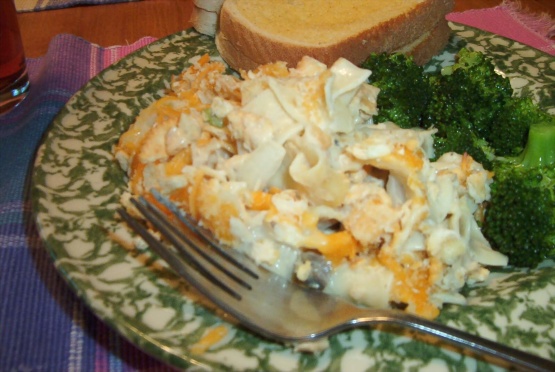 This is a combination of a couple of recipes, plus some stuff I added. It came out really good!

We loved this dish & I esp like this type recipe ... 1 that is made w/ingredients you are almost certain to have in your pantry or fridge. At 3:00 pm, I realized I had not gotten anything out to thaw for dinner, so I ck'd what I had & needed to use. Then I found your recipe I had saved when your *PAC Mom* posted her photo. I added 1/2 cup finely chopped red bell pepper I needed to use + extra chili sauce & skipped the butter crackers. The sauce seemed a bit thin right out of the oven, but was well-set after a few min. It was like comfort food w/a bit more of a bite the way I made it. Thx for sharing this will be made again recipe w/us. ... *Edited to add a star because this is even better the 2nd day* :-)
Combine all ingredients, except cheese and crackers in a 3 ltr. casserole dish and mix well.
Top with grated cheese and crackers.
Place in oven preheated to 325 for 30-40 minutes.