Tuna Balls With Cream Sauce
MsPia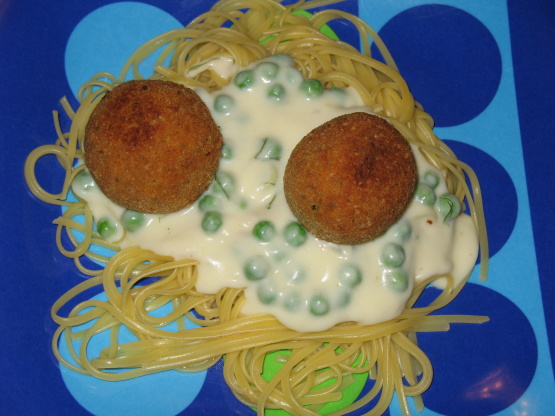 This recipe came from a "Microwave speed meals" booklet. I have to admit I never microwaved it. I serve it over egg noodles. My daughter and her friends (teens) love this.

I made this recipe as a PAC choice & was attracted to it for several reasons. DH & I love most things tuna & my own recipe for salmon or tuna patties also uses corn flakes as the bonding agent. I also liked the idea of baking the tuna balls & combining them w/a veggie, pasta & sauce for a 1-dish meal. The tuna mixture seemed a bit dry to me & I had some trouble getting good coverage of them w/the corn flakes, but that was prob my own awkwardness w/a new process. I served the combo over rice & did use recipe #62371 by evelyn/athens that you suggested for the sauce as it easily adapted to the amt of sauce needed. Pls see my rating system - a very worthy 4* for a tasty, rich & satisfying meal we both liked a lot. Thx for sharing this recipe w/us. :-)
Combine tuna, 1-cup cornflake crumbs, the mayonnaise, egg onion and mustard in a medium mixing bowl.
Shape into 12 balls, 1-½ inches in diameter.
Place remaining ¼ cup cornflakes crumbs in shallow dish. Roll each ball in crumbs to coat evenly.
Arrange tuna balls in 9-inch pie plate. Bake in a 350-degree oven until golden brown, for.
About 20 minutes.
Meanwhile on a small saucepan blend milk with white sauce mix. Cook until sauce thickens (or follow package directions or…make your own white sauce. Recipe #62371).
Add peas and dill weed. Mix well.
Serve tuna balls over egg noodles and drizzle with the sauce.