Tuna and White Bean Salad
Ms B.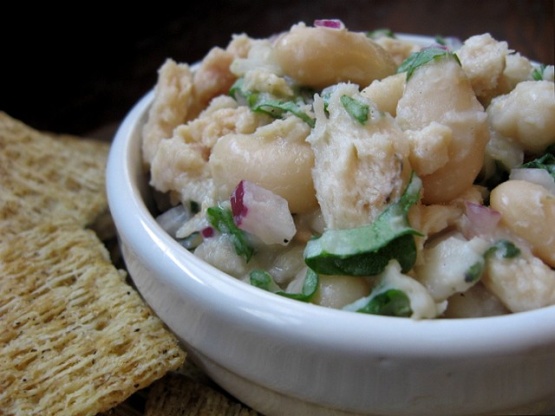 This comes from the back of a Triscuits box. The recipe is by Rachael Ray.

Top Review by sg1427
I've been making a version of this that I found in Sunset Magazine as Tuscan Tuna Salad a few years back. It adds celery and leaves off the rosemary, arugula and lemon juice. I buy tuna packed in olive oil at Trader Joe's Market and it seems to have just the right amount, without needing to drain and add oil back in. I have used a 1/2 can and a whole can of white beans, at various times. Either way seems to work. I haven't tried the idea of mashing part of the beans. That is very Italian. I will try that next time.
Drain beans well and place half the beans into a bowl.
Mash remaining beans with a fork.
Combine mashed and whole beans with tuna, onion, rosemary, and arugula.
Dress the salad with lemon juice, olive oil, salt, and pepper.
Serve with crackers.