PaulaG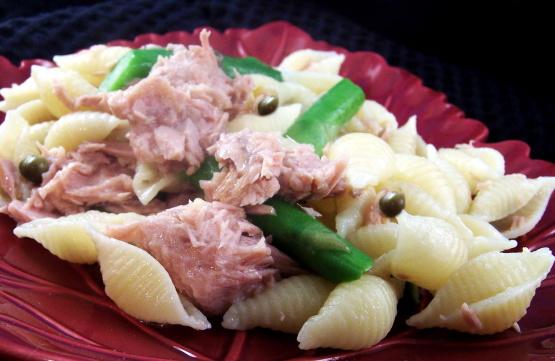 This simple recipe keeps the use of pots and pans to a minimum, cutting down on the washing up time. From Good Food Magazine. PaulaG tried this and used asparagus in place of the beans. Sounds like a great idea to me!
Top Review by PaulaG
This is a delicious main dish. The lemon flavor is subtle enough not to overpower the dish but strong enough for you to know it is there. After being converted from metric, the recipe calls for 12 1/2 oz of pasta. As per my box of shells, 2 oz is a serving. The amount of pasta was reduced to 8 oz and not having green beans, fresh asparagus was added the last 2 minutes. I did add some freshly ground salt and pepper to my serving.
Cook pasta in boiling water for 8 minutes.
Add beans and cook for a further 3 minutes until both pasta and beans are just tender.
Meanwhile, tip the tuna and its oil into a bowl and flake the fish, keeping the pieces quite large.
Stir in the lemon zest, capers, chillies and plenty of salt and pepper.
Drain the pasta and beans, return them to the pan and toss with the tuna mixture.
Drizzle with a little olive oil if mixture seems dry and serve.