IngridH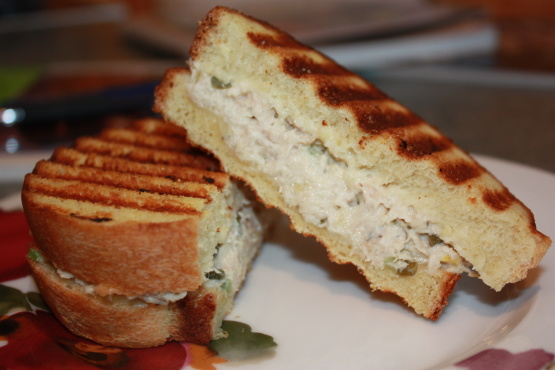 And now for something completely different.... This one takes a bit of forethought since the recipe calls for roasting garlic cloves, but once that's done the recipe is a breeze. I love making paninis. This is a nice combination of flavors, that I think complement each other very well. From Food and Wine Magazine. Please note the directions for roasting garlic, which can be done in advance of preparing the paninis. The cook time does not include roasting the garlic, which takes 30 minutes to an hour depending on how much garlic you choose to roast. The roasted garlic really makes this recipe special. Enjoy! *Note: you can used regular canned tuna in oil instead of the more expensive jarred version. You could also used tuna in water and sub olive oil for the tuna oil.
I thoroughly enjoyed this sandwich for lunch today. I don't know what I was expecting (never having had a tuna melt before) but I was surprised that it didn't taste like tuna at all. I guess that is because I usually make a kind of sweet tuna salad and this is not sweet. The only thing perhaps I did not like is that this is a little fussy to make for one person. It is much better suited and appreciated if the entire recipe is made for the family or guests. Very nice sandwich. Made for ZWT 7.
See note below for directions on roasted the garlic. Do this before preparing the paninis.
Mix the mayo with the 1 Tablespoon of the reserved tuna oil, the lemon juice, Dijon mustard, celery, garlic, parsley, capers and celery seeds. Mix in the tuna. Season with salt and pepper, to taste.
Spoon the tuna mixture onto 4 slices of the bread, then top each with 1 oz of Gruyere and then top with another slice of bread.
Toast the sandwiches in a panini press until they are golden and the cheese is melted.
*Note* To roast the garlic, place the unpeeled cloves on a sheet of aluminum foil and drizzle with olive oil. Seal the foil and roast the cloves at 300 degrees F. If I'm halving the recipe and only roasting 2 cloves, I roast them for 30 minutes. If you roast the whole garlic bulb it would take about 1 hour. You can always peek at them and touch to see when they are completely tender. let the cloves cool, then squeeze them out of their skins and mash them.