Tuna and Green Bean Salad
Annacia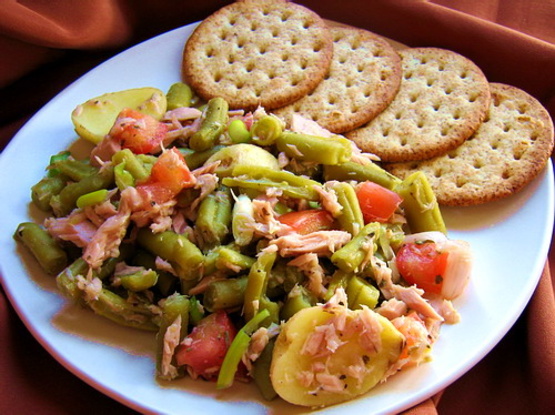 This salad can be made as a side dish or as a lunch salad. It is so tasty and nutritious.

I'm not sure if I should add stars since I essentially took the recipe and ran with it, but I'm so excited over the combination of ingredients I can't help myself!! I made 1/2 recipe: had a cooked red poato and 200 g of frozen green beans, so I didn't follow the instructions of Step 1. Also, I didn't have fresh parsley so I used 1 ts of dried and mixed it into the dressing. It was ... just... fabulous!! This will definitely get made again and again, with a little less green beans and lemon juice than called for. Thank you VERY much for posting!
Cook the green beans in a large pot of boiling water until crisp-tender, stirring occasionally, about 4 minutes.
Using a mesh strainer, transfer the green beans to a large bowl of ice water to cool completely. Drain the green beans and pat dry with a towel.
Add 2 teaspoons of salt to the same cooking liquid and bring the liquid to a simmer. Add the potatoes to the simmering liquid and cook until they are just tender but still hold their shape, about 8 to 10 minutes. Transfer the potatoes to the ice water to cool completely. Drain the potatoes and pat dry with a towel.
In a small bowl, whisk the lemon juice, garlic, oil, oregano, 1 teaspoon salt and 3/4 teaspoon pepper. Place the tomatoes, basil and parsley in a large serving bowl. Add the tuna and toss gently to combine. Add the green beans and potatoes and gently combine. Pour the dressing over the salad and toss to coat.