From BBC Good Food. Sounds like an easy and delicious lunch/snack. It's also great as an appetizer.
Directions
Preheat broiler/grill to highest setting.
Drain tuna, mix it with mayo and scallion in a bowl; season with salt and lots of freshly ground black pepper.
Toast bread slices under the grill until they're nicely browned on both sides, then spread the tuna mixture on top of each toast.
Sprinkle with grated cheddar on each toast and put back under the grill until cheese has melted.
Slice each toast diagonally into triangles, sprinkle with paprika and enjoy!
Reviews
Most Helpful
I made these with toasted baquette and chives in place of scallions. I also cut back on the mayo a bit. They made for a great lunch with a salad and sliced oranges. Thanks! [Made for the I Recommend Tag]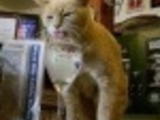 Other than I used salmon as we don't care for tuna I made as directed though I think I would cut back on the mayo as it was a little sloppy but the DM and I were absolutely chockas on 1 1/2 slices each and thoroughly enjoyed every bite. Thank you WaterMelon, made for ZAAR Chef Alphabet Soup.

This made a quick easy after golf lunch using things I had on hand. In place of the tuna I used a small can of salmon flavoured with red onion & tomato (95g can). This worked well and will certainly make again. Into the 'keepers' file for this one:)