Tuna and Arugula (Rocket) Pasta
-Sylvie-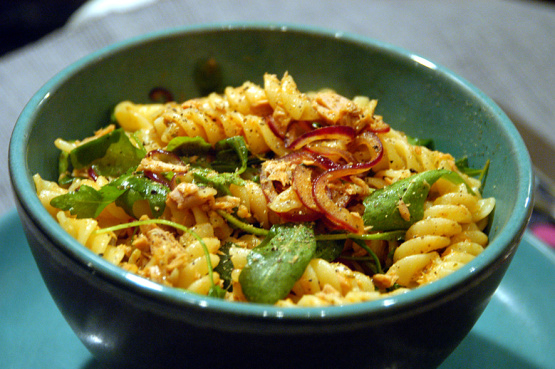 A lovely lunch or dinner.

Top Review by Zurie
The kind of recipe I'm looking for, now that it's just my husband and me. I usually have rocket in my garden, and I adore it. I like all the flavours used here, and I'm saving this recipe to my cookbook. (Written in Aug 2005) It's now Feb 2007, (to my shame) but last night I made your recipe, not for us, but to take over to an old couple. (I already had a Zaar chicken in the oven for us). I did not have tomato pesto, but used a few chopped sundried, bottled-in-oil tomatoes and added a pinch of sugar. The dish looked colourful and healthy, and of course I tasted it before giving it away: it was, as I had thought it would be, 5-star!! I heated it myself in the old peoples' microwave to make sure it didn't overcook but it was still warm anyway, and came out looking perfect. Thanks!!
Cook pasta until al dente, following packet directions and drain, but reserve 2 tablespoons of the cooking water.
Put the drained pasta and reserved water back into the cooking pot, away from the heat.
Heat oil in a large non-stick frying pan.
Add onions and garlic and cook gently until soft.
About 8 minutes.
Add onion mixture to the pasta pot along with the olives, pesto and lemon juice.
Toss over a low heat for a minute to heat gently.
Add tuna and rocket.
Keep tossing over the low heat until rocket wilts slightly.
Season with pepper if desired and serve.