Ms B.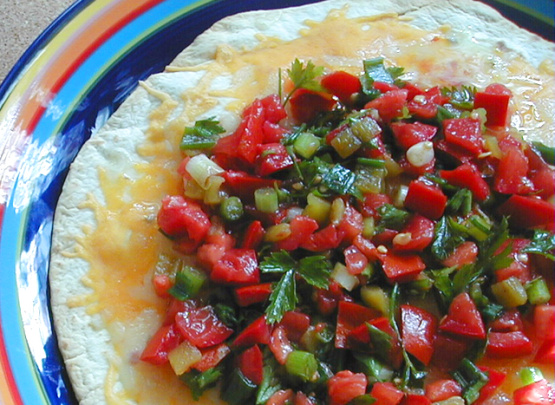 This is an easy, delicious appetizer for two. Try to use the thinnest tortillas you can find as they work best in this. I found this in "The Border Cookbook"

Top Review by Ms B.
A nice twist on the usual nachos. I used a pepper jack cheese instead of the plain Monterey jack. I love fresh salsa, and added salt and pepper to the tomato salad. This was a simple lunch for myself on a Saturday. It would be so easy to put together for drop in guests, too.
Preheat the oven to 400°.
Combine the salad topping ingredients in a small bowl.
Bake the tortilla for 4-5 minutes directly on the oven rack; remove the tortilla from the oven and place it on a baking sheet or pizza stone.
Sprinkle the cheese on and return to the oven; bake until the cheese melts completely, another 4-5 minutes.
Transfer the tortilla to a platter and spoon on the salad topping.
Serve the crisp immediately, breaking off pieces of the tortilla to eat it.