TSR Version of Tgi Friday's Dragon Fire Chicken by Todd Wilbur
ahavah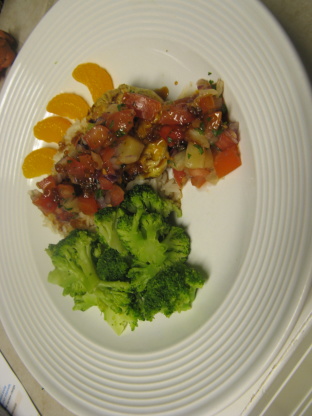 From www.TopSecretRecipes.com Marinated chicken breast topped with a Kung Pow sauce, mandarin oranges and pineapple pico de gallo.

This recipe is loaded with flavor and is very comparable to the restaurants dish! I did not have time to marinate my chicken so I left the marinade part out. Honestly if you dont have time to marinade the chicken, you are still going to end up with a flavorful dish from the sauce and salsa. You do need to make the salsa ahead of time at least tho for the flavors to build. And if you have fresh pineapple use fresh instead of canned. I sauteed my chicken instead of grilling and at the last minute of cooking added the mandarin oranges to get rid of the "canned" taste. This is a nice and light meal served over rice and broccoli. It pairs very well with sticky jasmine rice like in the restaurant. Disregard the nutritional facts in this recipe. It seems it is a fattening dish but it is adding in all the oil from the marinade, which obviously isn't all on the chicken when you prepare it. Thanks for posting this copycat recipe for me to find!
Make marinade by combining all ingredients in a blender on high for 1 minute. Pound chicken breast to about 1/2" with a mallet and combine with marinade in a zip-top bag for 2 to 3 hours.
Make pineapple pico de gallo by combining all ingredients. Store in a covered container in the fridge until later.
Make Kung Pow sauce by combining all ingredients in a small saucepan over medium heat. When the mixture starts to bubble reduce heat to simmer for 15 minutes. Cover sauce until needed.
When chicken is done marinating, preheat grill to medium heat. Wipe marinade from chicken and grill 5 to 6 minutes per side or until done. Serve chicken drizzled with Kung Pow sauce and pico de gallo on the side. Drain mandarin oranges and sprinkle of top.