TSR Version of KFC Buttermilk Biscuits by Todd Wilbur
Pellerin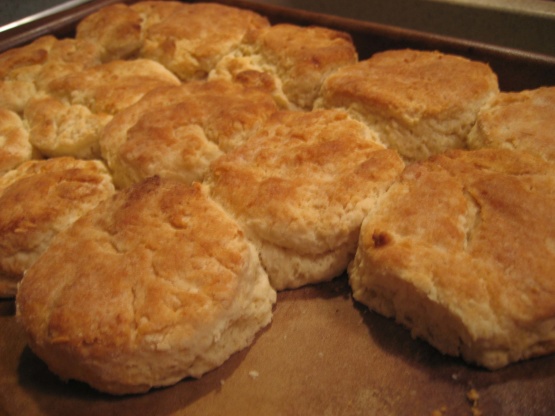 From www.TopSecretRecipes.com. A favorite has to be the buttermilk biscuits they are so light and fluffy they just melt in your mouth. They were made fresh daily in every store. Now due to the popular demand of these biscuits, they come frozen. This was sent to a recipe group, AARestaurant_Recipes, by tabbitha. This recipe was adapted from Todd Wilbur's book Top Secret Recipes.

Top Review by tsrweb
This recipe was created by Todd Wilbur www.TopSecretRecipes.com. The typist left out the sugar: you need 2 1/2 tablespoons granulated sugar.
Preheat the oven to 450°F.
Combine all of the ingredients, knead the dough by hand until the dough holds together do not over knead.
Flour your hands Pat the dough flat to 3/4-inch thickness out biscuits with a biscuit cutter.
Bake on a greased baking sheet for 13 minutes, or until golden brown, when they come out of the oven brush with melted butter.