TSR Version of Ihop Harvest Grain 'n Nut Pancakes by Todd Wilbur
AmyZoe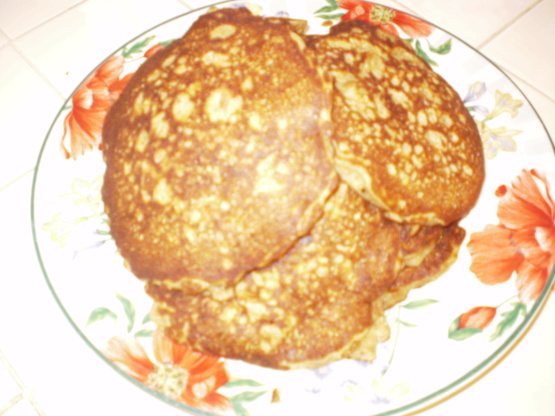 I got this recipe from Top Secret Recipes by Todd Wilbur.From www.TopSecretRecipes.com I didn't blend the oats or blanch the almonds (too much work first thing in the morning). I threw a splash of vinegar into the milk to make my own buttermilk. This is a hearty pancake with a sweet flavor and a nice crunch. If you're wanting to eat a little healthier but you're afraid healthy means bland, this is a great recipe. Plus, you can freeze these after they cool and reheat any leftovers in the microwave.

OMG - I love how yummy and healthy these pancakes are! I used vegan substitutions for the eggs and milk, but I've had these pancakes at IHOP, and I think my version is very close. I added 2 tbsp of flax seed meal to up the nutrition, and used 1/3 cup of walnuts instead of a mix of walnuts and almonds. Thank you so much for posting this recipe, Amy!
Lightly oil a skillet or griddle and preheat it to medium heat.
Grind the oats in a blender or food processor until fine, like flour.
Combine oat flour, whole wheat flour, all-purpose flour, baking soda, baking powder, and salt in a medium bowl.
In another bowl combine buttermilk, milk, oil, eggs, and granulated sugar with an electric mixer until smooth.
Combine dry ingredients with wet ingredients, add nuts and mix well by hand.
Ladle 1/3 cup of the batter onto the hot skillet and cook the pancakes for 1 to 3 minutes per side or until brown.