TSR Version of Houston's Honey Lime Vinaigrette by Todd Wilbur
LucysMom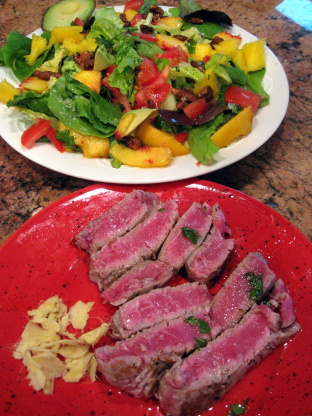 I just received this from Top Secret Recipes.From www.TopSecretRecipes.com It sounds great, but I've not tried it; come to think of it, I've never even heard of Houston's. :) I would probably reduce the amount of honey, but I'm posting it as written.

This recipe is wrong. It does not have enough lime juice. And they do not use dijon mustard. I used to work for Houston's. The sashimi tuna salad you are thinking of is tossed in Houston's original vinaigrette, an egg based product with champagne vinegar and mustard. The tuna steak also gets that on the entree. The tuna that goes on the salad gets two tablespoons of Cilantro Ginger Vinaigrette, a different product altogether. The honey lime dressing featured here gets tossed with tortilla strips, grilled chicken, cilantro, and carrots and goes in the Grilled Chicken Salad. Then, it gets two ounces of their famous peanut sauce. They don't heat the honey lime dressing like in the recipe or add onions. The cilantro and bell peppers go in right before service. Each quart of dressings gets three tablespoons chopped bell peppers and a 1/4 cup cilantro. trust me, former employee
Combine all ingredients in a small glass or ceramic bowl, mix well.
Heat dressing in microwave on high power from 1 to 1-1/2 minutes, or until mixture begins to bubble.
Remove from microwave and whisk for 1 minute- this emulsifies the dressing and it should thicken as it cools.
Cover and chill for two hours before serving.