TSR Version of Girl Scout Thin Mints Recipe by Todd Wilbur
Dine Dish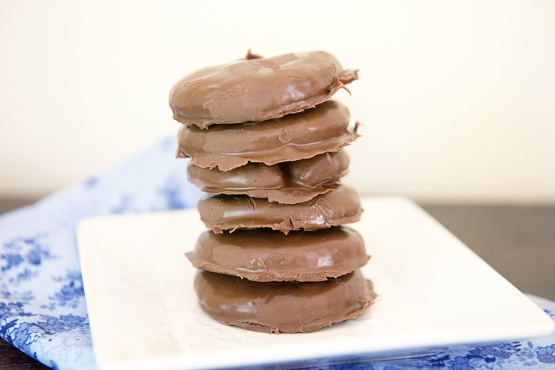 From www.TopSecretRecipes.com. I love these cookies when Girl Scouts sell them, and I just found the recipe on TSR! I can't wait to make them, but I thought i'd share them first!

FABULOUS. Easy as pie too - well, I didn't do all the rolling and refrigerating. I just made dough into little balls with my hands, flattened with my fingers onto the cookie sheet (covered in parchment paper) to make thin cookies and called it good. Cooked 10 minutes, cooled. While cooling on a rack, I made up the chocolate, and dipped after the cookies had cooled - 10 minutes. Put whole batch into fridge. SO GOOD. Made bigger cookies and got about 4 dozen. I will definitely make these again. UPDATE: I made this a second time and used Moist Deluxe Dark Chocolate Cake Mix(Copycat-Duncan Hines) Recipe #129855 in place of the boxed cake mix, and it was excellent. Just make the copycat boxed part - don't include the "add" ingredients to actually make the cake. It was not quite as quick, but definitely a good alternative if you don't want all the chemicals / preservatives of the mix. UPDATE: I've made these since for a bake sale making really big cookies, and they FLEW out the door. One guy kept coming back for more and more! Pretty funny. Also every time I do these, I run out of chocolate for dipping - so maybe make a little extra.
Chocolate Cookie Wafers

1

(18 1/4 ounce) package fudge cake mix

3

tablespoons shortening, melted
1⁄2 cup cake flour, measured then sifted

1

egg

3

tablespoons water
nonstick cooking spray

Coating

3

(12 ounce) bags semi-sweet chocolate chips
3⁄4 teaspoon peppermint extract

6

tablespoons shortening
Combine the cookie ingredients in a large bowl, adding the water a little bit at a time until the dough forms.
Cover and chill for 2 hours.
Preheat oven to 350 degrees.
On a lightly floured surface, roll out a portion of the dough to just under 1/16 of an inch thick.
To cut, use a lid from a spice container with a 1 1/2-inch diameter.
Arrange the cut dough rounds on a cookie sheet that is sprayed with a light coating on non-stick spray.
Bake for 10 minutes.
Remove the wafers from the oven and cool completely.
Combine chocolate chips with peppermint extract and shortening in a large microwave-safe glass or ceramic bowl.
Heat on 50 percent power for 2 minutes, stir gently, then heat for an addition minute.
Stir once again, and if chocolate is not a smooth consistency, continue to zap in microwave in 30-second intervals until smooth.
Use a fork to dip each wafer in the chocolate, tap the fork on the edge of the bowl so that the excess chocolate runs off, and then place the cookies side-by-side on a wax paper-lined baking sheet.
Refrigerate until firm.