TSR Version of El Pollo Loco Avocado Sauce by Todd Wilbur
clkaka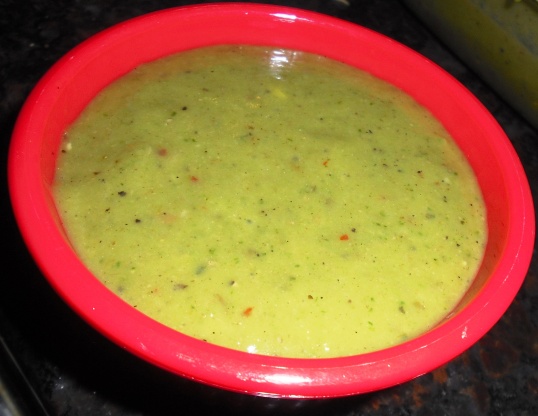 From www.TopSecretRecipes.com This recipe is a copy-cat of the wonderful avocado sauce served at El Pollo Loco restaurants. It is great with taquitos, chicken or shrimp quesadillas. Don't expect an extremely thick guacamole, this is a thinner salsa--the consistency of the sauce you usually get with taquitos. Also, the heat of fresh jalapenos varies greatly. If you like milder salsas, remove the seeds; if you like it hot, don't bother removing them.

awesome. if you're worried about it being too watery, start out with 1/2 cup and then add more if you want. i ended up adding about 2/3 cup water and it is still pretty thick. thanks, this sauce is great!
Combine all ingredients in a blender & puree.
Optional: For chunkier salsa, after pureeing, place in bowl.
Mix in one diced avocado into pureed mixture.