TSR Version of Chili's Grilled Caribbean Salad by Todd Wilbur
MyCristi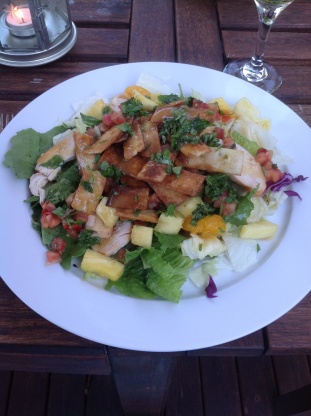 From www.TopSecretRecipes.com Chili's first let go of the Caribbean Pita... then they stopped making the Caribbean Salad! It should be illegal to get rid of the most delicious meal they served!!!
In a large resealable plastic bag, shake chicken and teriyaki sauce together.
Marinate in the refrigerator for at least two hours (preferably overnight).
Combine lettuces and cabbage thoroughly in a large mixing bowl and chill.
Grill marinated chicken approximately 4 to 5 minutes per side.
Slice grilled chicken into thin strips.
On 2-3 large serving plates, evenly divide chilled salad greens.
Top each salad with tortilla strips, mandarin oranges, pineapple chunks, pico de gallo and grilled chicken.