TSR Version of Cheesecake Factory Chicken Madeira by Todd Wilbur
jmorici4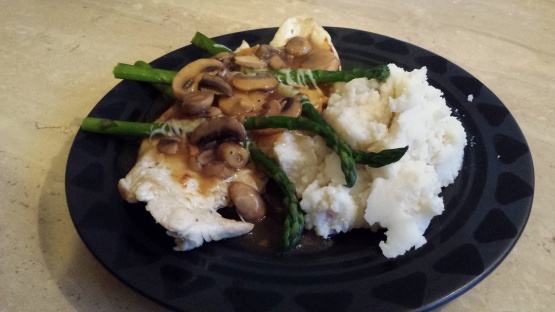 From www.TopSecretRecipes.com I had this wonderful dish with my sister in Florida. Now I can make it at home. I had a hard time getting the sauce to thicken so I added cornstarch. This recipe reflects that. It also makes a LOT of sauce.

I have not made this yet, but loved it at The Cheesecake Factory. I will say that after reading all of the reviews/comments on this recipe, everyone is saying the same thing "the sauce/gravy is to thin". When I had this at Cheesecake Factory the sauce was not very thick. If you want your sauce thick and don't want the taste of cornstarch of flour, turn up the heat a little bit and let it reduce a bit longer. I am in Culinary school right now and have been told that sometimes things will take a bit longer to reduce, this will also help cook off the alcohol taste. Will try this when I make it myself. Good luck everyone.
Heat 1 Tablespoon olive oil in a large skillet over medium heat.
cover each chicken breast with plastic wrap and using a mallet flatten to about 1/4 inch thick.
Sprinkle with salt and pepper.
Saute chicken for 4 to 6 minutes or until the chicken has browned just a bit.
Remove from pan and keep warm.
Do not clean pan.
Keeping the heat on medium, add two Tablespoons olive oil to the skillet.
Add the sliced mushrooms and saute for about two minutes.
Add the Madeira wine, beef stock, butter and pepper.
Bring the sauce to a boil, then reduce heat and simmer for about 20 minutes or until sauce has thickened.
The sauce will be done when it has thickened and turned a dark brown in color.
(optional-Make a paste from cornstarch and some of the sauce. Stir into sauce until thickened.).
As the sauce is simmering, bring a medium saucepan filled halfway with water to a boil.
Add a little salt.
Toss the asparagus into the water and boil for 3 to 5 minutes.
Drop the asparagus in a bowl of ice water to halt the cooking.
Set the oven to broil.
Prepare the dish by arranging the cooked chicken fillets on a baking pan.
Cross two asparagus spears over each fillet, then cover each with a slice of mozzarella cheese.
Broil the fillets for 3 to 4 minutes.
To serve, arrange two chicken breast on each plate, then spoon 3 or 4 tablespoons of Madeira sauce over the chicken on each plate.