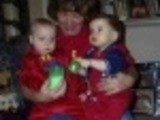 This is a very quick and tasty dish to make after a day at work. The kids always enjoyed it, too. I just open a can of fruit to serve with it. Sometimes, for variety, we make it with barbque sauce instead of ketchup.
Directions
Brown the ground beef (with the peppers and onions if you use them.) Salt the ground beef, to taste.
Stir in the pork'n beans.
Add enough ketchup to make the mixture moist.
Heat through.
Serve over (or with) toast.
Most Helpful
This was such an easy recipe and so good. I made it for DD today. She doesn't eat red meat so I made it with ground turkey. I asked her to rate it and she said 5 stars. Thanks for a great recipe.