Rita1652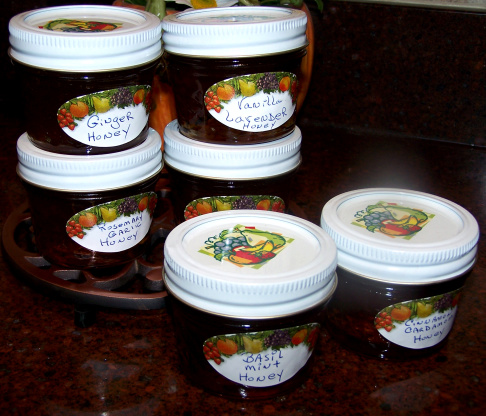 AHhhhh the Earthy Sweetness of Truffle Honey! Excellent drizzled over blue cheese, such as stilton or gorgonzola, Goat cheeses or any cheese you enjoy. It mellows the strong cheeses and is a total comfort food! A real delicacy with prosciutto, duck, fresh figs, apples & pears. Or jar it up in a sexy jar for a bridal shower gift;).

I ADORE truffle honey! Haven't made yours yet, but will be for this x-mas. Had this in NYC at one of Mario Batali's restaurants and thought I'd died and gone to heaven. Thanks so much for posting Rita... wish I was on your list!
2

g black truffles

8

ounces honey
Place honey in a double boiler with hot water in bottom. Shaved truffles into tiny pieces, then add to honey. Bring water to a boil, and bring honey to 185°F and keep at 185°F for 10 minutes. Remove from heat and let stand for 10 minutes. Place in sterilized jars and cap.
Optional:.
1-Strain while still warm.
2-If you don`t mind the appearance don`t strain.
3-Or strain and add some back.
BUT be sure to use it and don`t discard any for it is very pricey!