Truffle Dressing/ Herb Salad
Rita1652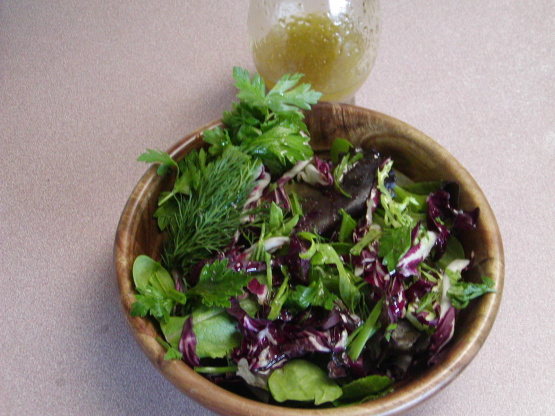 from the culinary institute of america, this is a lovely salad to use your fresh herbs. Truffle oil is available at trader joe's and some gourmet markets.

Second Course of "Toolie's Designer Thanksgiving Menu". Near the winery where I work, my favourite butcher shop beckons to me every weekend; run by an Italian purveyor of organic meats and other fine foods which compliment the shop, and complements the concept of healthy cooking and eating. You can imagine my delight at being able to purchase "truffled sauce". I cleaned them out. This shop also sells dried truffles. It was therefore simple to create a truffle oil by soaking dried truffles with a little truffled sauce, in extra virgin olive oil. Your recipe followed for "Truffle Dressing Herb Salad", chia, served up a wonderful salad of mixed greens. Dressing more subtle than aggressive in flavour, for my taste, it is perfect; I am so happy I saw this in my quest to create a Designer Thanksgiving Dinner. My guests were grateful, and I thank you chia, for sharing.
Prepare the vinaigrette by combining the olive oil, truffle oil, white wine vinegar, and sugar.
Season with salt and pepper and reserve.
Clean and thoroughly dry the mesclun mix.
Combine the mesclun, radicchio, parsley, and dill and toss thoroughly.
Just before serving, whisk the vinaigrette vigorously and season with additional salt and pepper, if necessary.
Toss the salad with the vinaigrette and arrange on plates.
Serve immediately.