True Moroccan Lentil Soup
Rita1652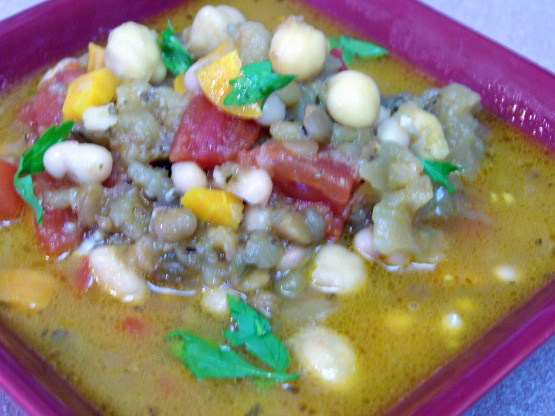 This is one of my favorite lentil soups outside of one I had in Rome many years ago now. There are thousands of "Moroccan" Lentil Soup recipes out there; especially on the internet where everyone is a "Moroccan Cook" simply by using the spices used in Morocco. That is not what Moroccan cooking is about. Yes, it is the spicing but how much? How many? Which types? Just as anyone can add garlic and basil to a dish and call it Italian food, is it? I think, in fact, I know not. That it may have ingredients well known to and used in many regions of Italy does not make it authentic. I will settle for nothing less than real life authenticity when it comes to Moroccan food; or the food of any country/region. It is in the knowledge, technique, time and simplicity where one finds authenticity; not necessarily in Gourmet Magazine or from Aunt Rita who went to Morocco, or anywhere, once 45 years ago on a five day tour blitz. This one is simple and hearty.

This recipe is exactly what I need right now: we're moving in about a week, and I haven't bought groceries in ages - trying to use up EVERYTHING in the pantry! This recipe calls for just about everything I'm trying to use up!! It was fun to make, and tastes great. Since we're also on an "extreme budget" right now, after serving it for lunch, I put in more ginger, sweet paprika, and cumin, and plenty more water, and I'm letting it simmer very slowly for a while. I'm hoping we can keep eating this for a few days ;-) Thanks for the great healthy inexpensive and delicious recipe!
In a large soup pot, stew pot or dutch oven cook the chick peas and white beans seperately until just tender.
Using a smaller pot, cook the lentils for 20 minutes and drain the beans and lentils.
In the same pot, saute the onions, garlic*, ginger, paprika and cumin approximately 5 minutes in the oil. I use the olive oil for this one as the Moroccan home cooks who I know will allow this cooking of olive oil rarely and for this recipe.
Add the water, lentils, chick peas, white beans, tomatoes, carrots, pepper and cumin, black pepper and salt to taste. Our black pepper used in a teaspoon will impart some good spicy heat to the dish. Should your black pepper not do this then please add a bit more black pepper as we do not use cayenne here.
Bring to a boil for a 5 minutes and simmer 3/4 covered 1 to 1 1/2 hours or longer, until the beans and lentils are soft but not mushy.
I have seen mny similar recipes on the internet stating to puree some of the soup and return it to the pot. While this is a nice idea, most Moroccan homes do not have a blender and this soup is not intended to be made as such.
Prep. time does not include soaking and pre-cooking the beans.
* Omit the garlic if using for Ramadan.