Yvonne_S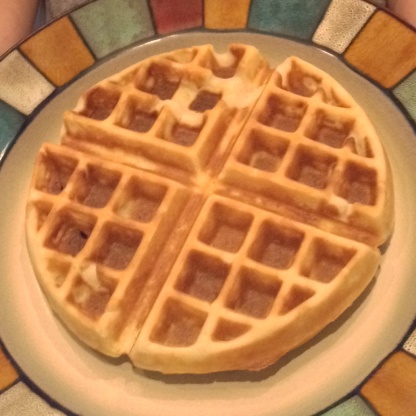 A friend of mine shared this recipe with me, and I have made waffles this way ever since. They are so light, slightly sweet, and just perfect served with fresh fruit and a little whipped cream, or syrup. A wonderful way to start the day. Hope you enjoy them too.

Unfortunately these weren't much of a hit at our house. Too gummy, way too sweet, and we felt kind of sick to our stomachs after eating just a normal portion. I think it's because we eat so much healthy food that the amount of sugar and butter in the waffles just did us in.
In a bowl, combine flour, sugar, and baking powder.
In another bowl, lightly beat the egg yolks. To this add, milk, butter, and vanilla; mix well.
Stir into dry ingredients, until just combined.
Beat egg whites until stiff peaks form, and fold into batter.
Bake in a preheated waffle iron, according to manufacturers directions until golden brown.
Serve with fresh fruit, or syrup.
Yield: 10 Waffles (about 4 1/2 inches).