Derf2440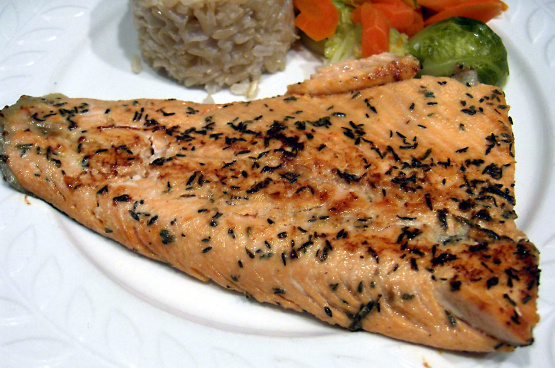 This is a delicious and easy preparation for trout; simply marinate for a bit in lime, thyme and garlic and grill, broil or saute as you normally would. It's refreshing and different. Prep time includes marinating.

Made this marinade in advance and packed it along on a fishing trip. I used it to marinade four whole freshly caught trouts cooked over coals. Came out delicious, even without a grain of salt! I have to watch my sodium intake, but the two guys who were with me who aren't watching their sodium intake thought they were great and didn't add any salt even though the salt shaker was right there. I'll definitely be making this again....maybe next time with fresh thyme. Yum! UPDATE: I made this again except with chicken instead of fish and, again, it came out fantastic, even without salt. I also made it a second time with chicken but this time used dried basil instead of thyme. Came out just as good!
In a plastic zipper bag, combine all ingredients and mix well to coat the fish fillets.
Allow to marinate in the refrigerator at least 2 hours.
When ready to cook, discard marinade and grill, broil or saute trout as you normally would (I like to saute it for about 10 to 15 minutes total, turning once, until fish flakes easily).