PaulaG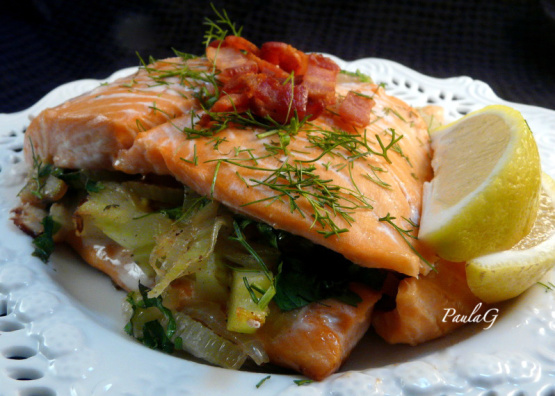 Recipe source: local newspaper
Top Review by PaulaG
I knew I was going to love this as I really love the sweetness of cooked fennel. The recipe was reduced to 2 servings. Applewood smoked bacon was chopped and cooked until crisp. The fennel and onion were then added to the pan and cooked until tender and beginning to caramelize. After removing the fennel/onion mixture from the pan, the pan was deglazed with some white grape juice (stock would work as well). A steel-head trout fillet was placed into the pan then topped with the cooked fennel/onion mixture and the remaining fillet. The trout was removed after 15 minutes, covered and allow to rest for about 5 minutes. A nice healthy meal that I am sure to repeat.
Preheat oven to 400 degrees F.
In a skillet over medium heat cook bacon until crisp. Remove bacon from skillet, reserving drippings. Drain bacon on paper towels and crumble bacon.
Add fennel and onion to pan; sprinkle with salt and cook until browned (8-10 minutes). Transfer to bowl and season with pepper and stir in the cilantro.
On a greased (or coated with Pam) and foil-lined baking sheet, place two trout fillets, cover with the vegetable mixture and then cover with the remaining fillets. Roast for 15 minutes or until opaque. Serve with lemon wedges and crumbled bacon.