-Sylvie-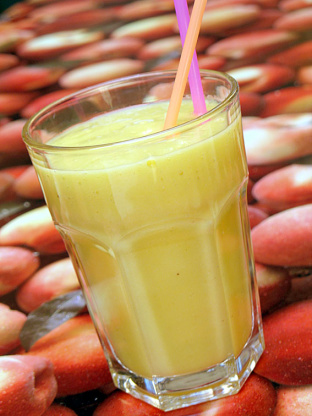 Very nice. From Cooking Light. Prep time does not include the time freezing fruit.

GREAT SMOOTHIE! I froze only the banana & pineapple & left the rest as is & had a wonderfully refreshing drink ALL BY MYSELF (so much for serving 3 ~ Oh, I guess that's actually 3 servings that I drank!)! Anyway, you do up a great drink that's addictive, even without any alcohol!! Thanks for sharing! [Made & reviewed as a thank you for a chef-with-a-camera in the Help A Camera-less Chef Game #5]
Arrange banana, pineapple, and mango in a single layer on a baking sheet.
Freeze until firm (about 1 hour).
Remove from freezer, and let stand 10 minutes.
Combine fruit, nectar, and juice in a blender.
Process until smooth.
Serve immediately.