Tropical Sunshine Gelatin Salad
Shuzbud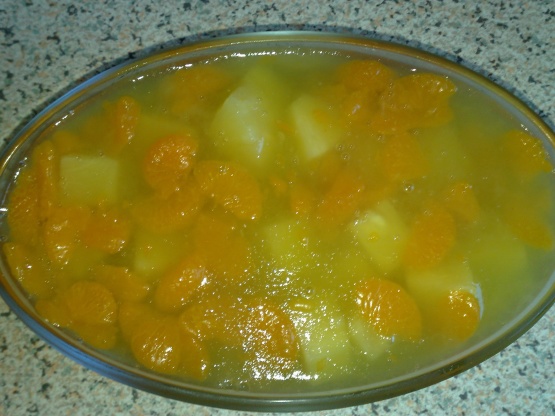 A refreshing salad that is great for picnics, potlucks and even friendly gatherings. Allow 2-4 hours for salad to set in the fridge.

This is a brilliant recipe for a healthy, pretty summertime treat. I used sugar free jello. I unfortunately could not find crushed pineapple so I used chunks- crushed would mix in better and blend the flavours together more. Thanks for a wonderfully tasty treat!
In a bowl, dissolve gelatin with boiling water.
Drain the pineapple, reserving the juice and set pineapple to the side.
Add enough water to the pineapple juice to equal 1 cup then stir this into the gelatin.
Add orange juice concentrate to gelatin.
Chill mixture until partially set.
Fold in the pineapple and mandarin oranges.
Pour into a 4 cup mold or pretty glass bowl.
Chill until fully set before serving.