NELady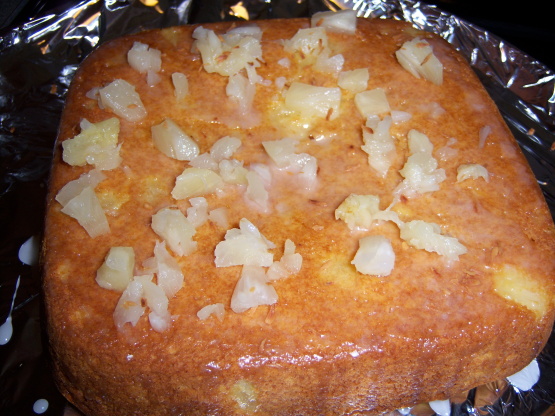 Fix this for brunch or a breakfast party. Strewn with bits of pineapple and toasted flaked coconut this cake will satisfy the taste for tropical treats.

Top Review by NELady
This was not the prettiest cake I've ever made, but it was one of the tastiest! I omitted the almonds because they weren't listed in the ingredients list and I didn't have them on my shopping list. I didn't miss the nuts. Some helpful hints for toasting coconut: To Toast Coconut Flakes: 1. Heat the oven to 350°F (180 C). Spread coconut flakes evenly on a cookie sheet. Bake for 7 to 8 minutes or until light golden brown. Stir the coconut or shake the pan frequently so it will brown evenly. Watch closely to avoid over-browning. 2. To toast in the microwave oven, spread coconut flakes in a microwave-safe pan. Microwave on HIGH for 4 1/2 to 8 minutes, tossing the coconut with a fork after each minute. Made for Photo Tag Game 1/9/09.
Preheat oven to 350°F
Grease 13 x 9-inch baking pan.
Combine cake mix, evaporated milk and eggs in large mixer bowl.
Beat on low speed for 2 minutes.
Stir in 1 cup pineapple.
Pour batter into prepared baking pan.
BAKE for 30 to 35 minutes or until wooden pick inserted in center comes out clean.
Cool in pan on wire rack for 15 minutes.
COMBINE sugar and 2 tablespoons reserved pineapple juice in small bowl; mix until smooth.
Spread over warm cake, sprinkle with coconut and remaining pineapple. Cool completely before serving.
Top with whipped cream, if desired.