Tropical Sunrise (Virgin and Alcoholic)
Found on the IslandFlave.com for the Caribbean part of ZWT. Sounds like it would be a nice refreshing drink!!
1⁄4 cup orange juice
1⁄4 cup pineapple juice
1 lemon, juice of
1 dash grenadine
1 ounce rum (optional)
Directions
Pour juice in a mixer.
Then squeeze lemon juice.
Add dash of grenadine, mix well, then add ice with fruit garnish or mint sprig in a goblet.
Most Helpful
Yum! We expanded this recipe by eight and made it in a pitcher. We decided to cut the lemon juice amount to a quarter of what was called for and it was perfect for us. We enjoyed sipping this delicious drink while watching the opening ceremonies of the Olympics! Thank you.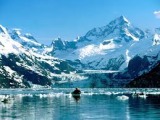 DD loves tropical flavored drinks so we made this for her using Malibu Rum. We had to take a sip or two to make sure it was just right, LOL, and it was! All it needed was a a little umbrella and ocean view. A fav for sure! Made and reviewed for the Culinary Quest 2016 - Bahamas.

The alcoholic version has been proven to raise your tolerance levels to the point you will accept pretty much anything unpleasant. Made for Everyday Is A Holiday.