Julesong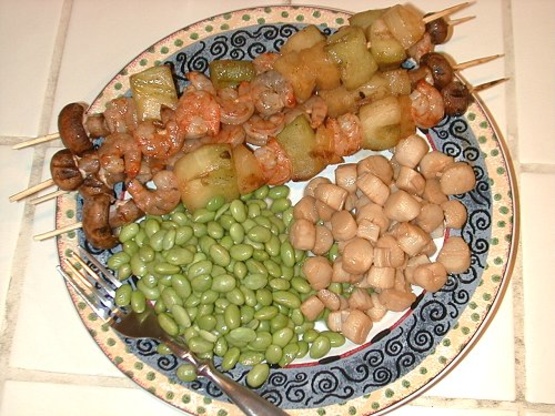 These are great for BBQs! You can use an indoor grill pan or broil them, too, so you can have them all year round. :)

Top Review by Dancer
Hi Jules me again lol This recipes was a ten. Everyone wanted the recipe. I broiled them but next time we will try the barbecue. I tripled the recipe and should have made more. I asked as we were eating what they would rate the recipe..it was 10's all around. Great recipe Jules, thanks for making my party a success. 2 thumbs up, and both toes.
In large bowl or Ziploc plastic bag combine the fruit juices, soy, oil, sugar, rind, cinnamon, and cayenne (if using); add the shrimp, scallops, melon, and pineapple.
Cover (or Ziploc) and marinate in refrigerator for at least 4 hours.
Soak bamboo skewers in water for 5-10 minutes.
Place shrimp, scallops, melon, pineapple, and avocado on skewers.
Grill or broil for 3 to 6 minutes or until shrimp are pink and scallops are opaque (be careful not to overcook!), basting frequently with marinade.
Makes 6-8 skewers, serving 2-4 (depending on how hungry you are).