JustJanS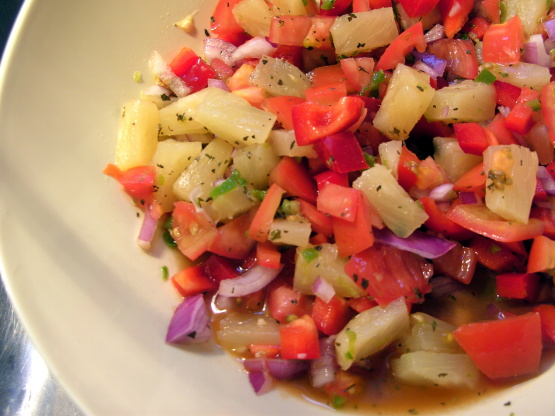 A tropical salsa perfect to be served with a simple grilled/barbequed fish or chicken. Leave out the chilli if the kids dont like them. The avocado is also optional- I like the salsa without the avocado

This is pretty tasty Jubes and certainly very easy and quick to make. I had started making it when I realised it was supposed to have an avocado in it (it's not in the ingredients). We used our avo at lunch so I wasn't prepared to buy or eat another one in the same day. I couldn't find red chillies in my freezer, so used green and couldn't buy fresh coriander so used dried (not as good but OK).
Chop the pineapple into chunks and prepare the tomato, onion, sweet pepper, chilli and avocado (optional ingredient). Place them all into a mixing bowl.
Add the remaining ingredients and gently mix to combine.
Cover and chill until serving time.
Place on top of grilled or barbequed fish or chicken.